Pope Francis at St. Peter's Basilica, Easter Sunday, 2022; photograph courtesy of Vatican News
This weekend we are experiencing a rare convergence of Easter, Passover and Ramadan.
On Good Friday, together with peace activists and clergy of many faith traditions, I participated in an extremely moving vigil protesting the continued design and production of advanced nuclear weapons at the Lawrence Livermore National Laboratory (LLNL).
The LLNL mission, as summarized by its director, is "to make the world a safer place."
But this is a lie.  Nuclear weapons cannot make the world a safer place.  On the contrary, nuclear weapons endanger the health, safety and existence of every human being on this planet, and all living things.
Amidst prayers for peace at the Good Friday vigil, participants received updated information about LLNL's current nuclear weapons projects.
For example, in "Extending the Life of a Workhorse Warhead," LLNL explains:
In 2014, the National Nuclear Security Administration (NNSA) selected Lawrence Livermore as the lead nuclear design agency for refurbishing the W80‑1 nuclear explosives package as the W80‑4 LEP, setting in motion the most significant weapons development program at the Laboratory since the end of the Cold War. The W80-1 warhead, originally developed by Los Alamos and Sandia national laboratories, is carried on the Air-Launched Cruise Missile (ACLM), which entered service in 1982. The W80-4 is the first U.S. warhead designed for use with a new carrier since nuclear testing ended in 1992. As a result, an important aspect of the [life-extension program] LEP effort is adapting the refurbished warhead to the [long-range standoff] LRSO missile."
Moreover, an October 1, 2020 LLNL press release published by LLNL describes the herculean efforts LLNL is making to keep the W87-1 Modification Program (W87-1 Mod)"on schedule despite work stoppages due to the COVID-19 pandemic."
"The W87-1 Mod will replace the W78 thermonuclear warhead with a modified design of the W87 warhead. The W78 is nearing the end of its functional lifespan after 37 years in service, perched atop the Air Force's Minuteman III intercontinental ballistic missiles (ICBMs). The W87-1 will be paired with an updated Mark 21 reentry vehicle, called an Mk21A, and an ICBM system named the Ground-Based Strategic Deterrent (GBSD), both of which are being developed in parallel with the warhead. This new missile is slated to replace the '70s-era Minuteman III missiles, as well as the accompanying command and control systems. Upon completion, the U.S. ICBM force will consist of ICBMs with both the existing W87 warheads and W87-1 warheads. The W87-1 Program will require all new manufacturing of components, which has not been done since 1992…

The crucial role of the labs is to certify the safety, security and effectiveness of the nuclear warhead, and that it will function as expected when paired with its new delivery system. Key areas of focus in the certification plan are ensuring the functional integration of the whole system, and that that warhead can survive anticipated flight environments. To do this, LLNL experts will utilize the state of the art computational and experimental capabilities developed by the Stockpile Stewardship Program over the last 25 years.

Experiments are already underway at LLNL's National Ignition Facility, the High Explosives Applications Facility and the Contained Firing Facility to verify that material choices and component designs will function as designed, and that the integrated system is able to hold targets at risk well into the future…

To help ensure that the NNSA production capabilities are able to meet program needs, LLNL is working closely with colleagues at the production plants. One area of focus has been ensuring that there are enough "pits" for the warheads. Pits are the plutonium cores of a nuclear weapon that initiate the nuclear reactions that drive a nuclear weapon when they are compressed by the high explosives. The W87-1 will require newly manufactured pits certified by NNSA.

…The program is scheduled to enter Phase 6.3 in 2022. During this phase, LLNL will enter the engineering development phase and working closely with NNSA production plants will ensure that the production processes deliver parts that meet requirements. The W87-1 is scheduled to produce its first production unit in 2030."
These words are jargon.  What do they mean?
"Designed for use" is a phrase that must be interpreted according to its plain meaning.
The "effectiveness" of a thermonuclear warhead is measured by the extent to which its use will in fact produce the destruction to which it had been designed to produce.
The yield of a nuclear weapon is a measurement of that intended effect.
For example, the atomic bomb dropped on Hiroshima in had a yield of 13 kilotons; that is, the explosive power of 13,000 tons of TNT.  This was sufficient to incinerate the entire city and 80,000 people who lived there, leaving tens of thousands more to die from radiation exposure.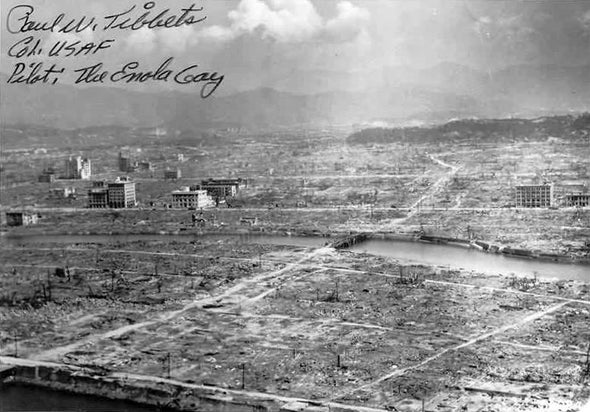 The yield of the W87-1 Mod being developed at LLNL is estimated to be 475 kilotons of TNT (i.e. the explosive power of 475,000 tons of TNT).
At 12 warheads per missile, the total yield would be approximately 5.700 megatons of TNT per missile (i.e. the explosive power of 5,700,000 tons of TNT.)
LLNL has announced its commitment to ensure that the W87-1 will "function as expected when paired with its new delivery system" and to verify "that material choices and component designs will function as designed, and that the integrated system is able to hold targets at risk well into the future…"
In sum, these efforts are intended to ensure that a single missile carrying 12 W87-1 warheads would have the capacity to destroy its "target" with explosive firepower greater than 438 times that of the warhead that destroyed Hiroshima.
What is the intended target?
That is not the business of the good scientists and brilliant engineers at the Lawrence Livermore National Laboratory.
They have explained to us the work they are doing and the consequences of the actions they are taking every day on behalf of you and me, and all U.S. citizens, whose taxes (due tomorrow) pay for this work.
We must take them at their word, and take action accordingly.
As the Hebrew Prophet Isaiah admonished us in ancient days (Isaiah 2:4).
And they shall beat their swords into plowshares
And their spears into pruning hooks:
Nation shall not take up
Sword against nation;
They shall learn war no more. 
And when we beat the W80‑4 LEP and W87-1 warheads into plowshares, our work will not have been completed.
The great Israeli poet Yehuda Amichai was afraid that Isaiah's solution was not enough.
An Appendix to the Vision of Peace
Tosefet Lachazon Hashalom
Don't stop after beating the swords
into plowshares, don't stop! Go on beating
and make musical instruments out of them.
Whoever wants to make war again
will have to turn them into plowshares first.
This morning, Easter Sunday 2022, Pope Francis delivered the traditional Urbi et Orbi ("To the City [of Rome] and to the World") benediction from the central loggia of St. Peter's Basilica.  You can find the complete text of the Pope's Easter blessing here.  Here are excerpts, pertaining to war and peace in this moment of global danger and human suffering:
"Our eyes, too, are incredulous on this Easter of war. We have seen all too much blood, all too much violence. Our hearts, too, have been filled with fear and anguish, as so many of our brothers and sisters have had to lock themselves away in order to be safe from bombing….

"May there be peace for war-torn Ukraine, so sorely tried by the violence and destruction of the cruel and senseless war into which it was dragged. In this terrible night of suffering and death, may a new dawn of hope soon appear! Let there be a decision for peace. May there be an end to the flexing of muscles while people are suffering. Please, please, let us not get used to war! Let us all commit ourselves to imploring peace, from our balconies and in our streets! Peace. May the leaders of nations hear people's plea for peace. May they listen to that troubling question posed by scientists almost seventy years ago: "Shall we put an end to the human race, or shall mankind renounce war? Shall we put an end to the human race, or shall mankind renounce war?" (Russell-Einstein Manifesto, 9 July 1955).

I hold in my heart all the many Ukrainian victims, the millions of refugees and internally displaced persons, the divided families, the elderly left to themselves, the lives broken and the cities razed to the ground. I see the faces of the orphaned children fleeing from the war. As we look at them, we cannot help but hear their cry of pain, along with that of all those other children who suffer throughout our world: those dying of hunger or lack of medical care, those who are victims of abuse and violence, and those denied the right to be born.

"Amid the pain of the war, there are also encouraging signs, such as the open doors of all those families and communities that are welcoming migrants and refugees throughout Europe. May these numerous acts of charity become a blessing for our societies, at times debased by selfishness and individualism, and help to make them welcoming to all.

"May the conflict in Europe also make us more concerned about other situations of conflict, suffering and sorrow, situations that affect all too many areas of our world, situations that we cannot overlook and do not want to forget.

"May there be peace for the Middle East, racked by years of conflict and division. [Pope Francis prayed for peace and reconciliation between Israelis and Palestinians, and for the peoples of Lebanon, Syria and Iraq, and all Christian communities of the Middle East].

"May there be peace also for Libya, so that it may find stability after years of tensions, and forYemen, which suffers from a conflict forgotten by all, with continuous victims: may the truce signed in recent days restore hope to its people.

"We ask the risen Lord for the gift of reconciliation for Myanmar, where a dramatic scenario of hatred and violence persists, and for Afghanistan, where dangerous social tensions are not easing and a tragic humanitarian crisis is bringing great suffering to its people.

"May there be peace for the entire African continent, so that the exploitation it suffers and the hemorrhaging caused by terrorist attacks – particularly in the Sahel region – may cease, and that it may find concrete support in the fraternity of the peoples. May the path of dialogue and reconciliation be undertaken anew in Ethiopia, affected by a serious humanitarian crisis, and may there be an end to violence in the Democratic Republic of Congo….

"Dear brothers and sisters, every war brings in its wake consequences that affect the entire human family: from grief and mourning to the drama of refugees, and to the economic and food crisis, the signs of which we are already seeing. Faced with the continuing signs of war, as well as the many painful setbacks to life, Jesus Christ, the victor over sin, fear and death, exhorts us not to surrender to evil and violence. Brothers and sisters, may we be won over by the peace of Christ!

"Peace is possible; peace is a duty; peace is everyone's primary responsibility!"
May this Easter, Ramadan and Passover evoke a renewed vision of peace and justice, redemption and reconciliation, and freedom from oppression and all forms of violence.
Jonathan D. Greenberg