Date: Tuesday, March 24, 2020
Location: San Leandro, CA (37.71186, -122.12707)
Site description: My siting location for this field journal was my boyfriend's backyard in San Leandro. The land is elevated in the hills, so it overlooks the East Bay. The surrounding area was suburban, the backyard was an open area with some shrubbery and patchy, dry land. It started drizzling halfway through our time in the backyard, which made the ground slightly muddy. Along the fences of the backyard were large chicken coops that took up a great amount of the area. I would describe the site as crowded, but also open. Crowded because there was a lot of clutter in the backyard, but the area was big enough where there were empty spaces. The key species I saw often were the Rock Pigeon, American Crow, and Common Raven.
Species account: A species not native to the Western hemisphere that I encountered was the Red Junglefowl (Gallus gallus). This species is in the order Galliformes and family Phasianidae. The reason why I saw a large number of these is because my boyfriend's dad breeds them in their backyard and sends them back to the Philippines to be sold. Fully matured adults were kept in large coops in the backyard while chicks were kept in an open area under an elevated porch. I found the species very vocal as I had a hard time concentrating on my other work. The call of a rooster is very distinct, and they often have different calls for different reasons, for example they have a different call for food then they do when warning others of an aerial predator. They are generally smaller in size, and roosters have bright, contrasting colors with dark, almost iridescent tail feathers. I was told they express a dominant, skittish-like behavior. They are native birds to South and Southeast Asia and are often found in areas with open ground and dense vegetation. They are largely omnivorous, and their diet consists mainly of insects and seeds.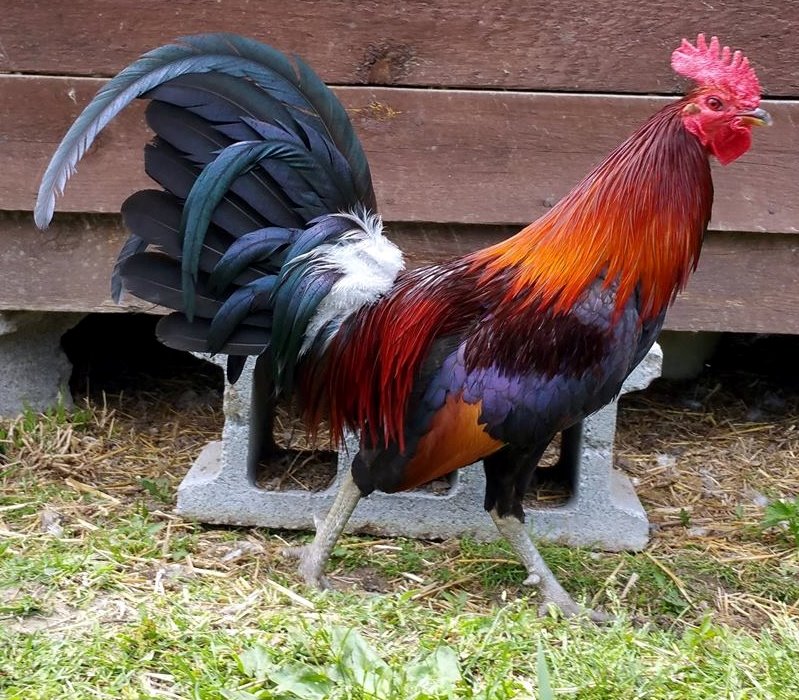 Narrative: The majority of the time was spent sitting in the backyard because of the quarantine. In total, I only saw five species, and nothing I hadn't seen before (with the exception of the junglefowl). The weather was cloudy and it was slightly cold, and we actually left the backyard because it started raining pretty hard. I think a large part of why I didn't see any new species was because I was primarily in a suburban area, where everything was more busy and the habitat was not ideal for many species. However, it was nice being able to quickly identify the ones we had seen many times. We went for a drive across the bay to drop someone off, where I was only able to see gull species in the sky due to the rain. Overall, I wish I was able to see some new species, but I'm glad that I'm comfortable being able to identify the ones we've seen multiple times.
eBird checklist: https://ebird.org/checklist/S66186502?share=true
Citations:
"Red Junglefowl Gallus Gallus." Red Junglefowl – Introduction | Neotropical Birds Online, neotropical.birds.cornell.edu/Species-Account/nb/species/redjun/overview.
Guan, Peter Yew. "Red Junglefowl." Infopedia, National Library Board Singapore, 21 Aug. 2001, eresources.nlb.gov.sg/infopedia/articles/SIP_541_2004-12-24.html.